Favorite Summer Recipes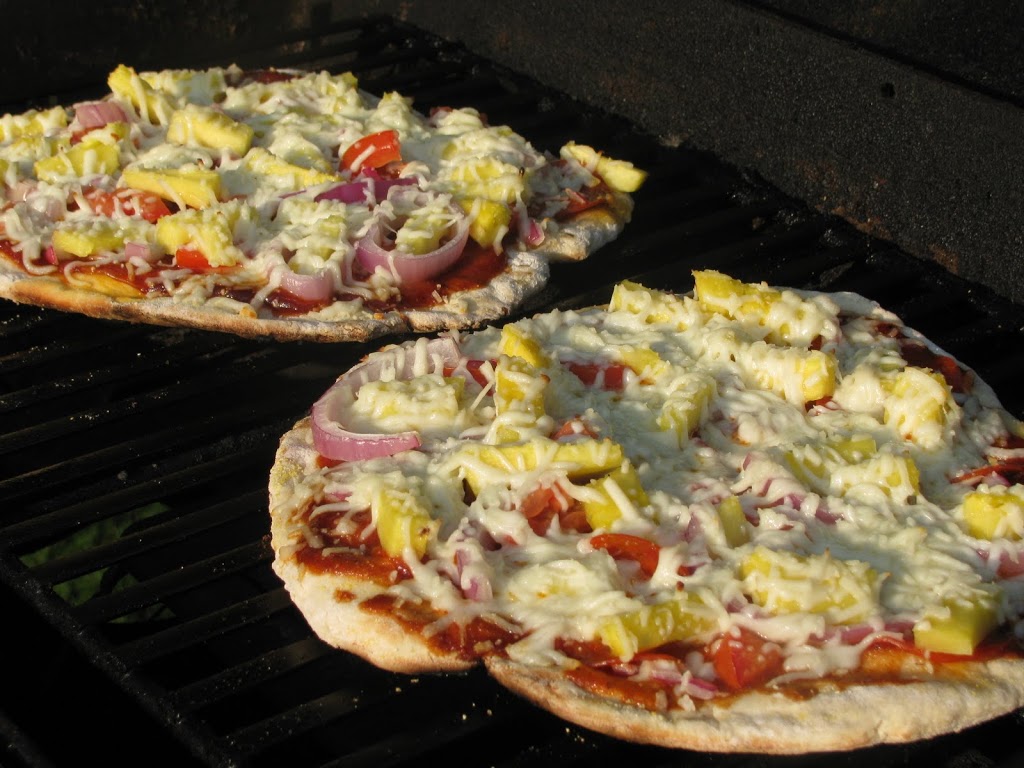 Since today is the last day of August, I feel like it's the last day of official summer. Once September comes tomorrow, it's as if overnight the air magically turns more crisp, the leaves start to change, and I can smell the sweet smell of apples and pumpkins. So before I start making my favorite chocolate chip pumpkin bread and apple pies, I thought I would share some recipes that we've enjoyed over the summer.
1 (.25 oz) package active dry yeast
2 tablespoons cornmeal for dusting
1. Proof the yeast in the warm water
2. In separate bowl place flour, salt, sugar and oil. Make a well in the center and add the yeast/water mixture in. Mix thoroughly until consistency off an elastic ball. Let rise 1 1/2 to 2 hours.
3. Flour surface and roll out dough. (We usually divide the dough in to 3 or 4 smaller pizzas) Rub with cornmeal.
4. Spray grill with cooking spray. Cook one side of the dough (about 5 minutes)
5. Add your toppings to the cooked side, then return to the grill and cook the uncooked side 5 to 7 minutes or until cheese is melted.
Some of our favorite toppings are:
1. Fresh tomatoes, fresh mozzarella and basil.
2. BBQ sauce, chicken, bacon, cheddar cheese, chives and a chipotle/ranch dressing.
3. Mozzarella cheese, pepperoni, pickled hot banana peppers, pizza sauce.
4. BBQ sauce, pineapple, bacon, mozzarella cheese and tomatoes.
Cucumber and Tomato Salad:
Tomatoes, coarsely chopped
Mix all ingredients in a bowl and enjoy.
White and yellow jelly beans
White decorating sugar (I use "sugar in the raw")
Press rows of jelly bean kernels onto three frosted cupcakes. Line up the cupcakes and sprinkle decorating sugar across the tops to look like salt. To make the starburst (butter), microwave a starburst for about 8 seconds, stretch it into a melted butter shape, then set it on top of the center cupcake. Add a corn holder to each end of the cob.
Sugar cookie mix
Brownie mix
Cake mix
1 tub frosting
Food Coloring
Sesame Seeds
For the Burgers:
Cook the brownies and cupcakes as directed on the packages. When both have cooled, cut the cupcakes in 1/2 and the brownies in circles. Color the frosting to make them lettuce, ketchup and cheese. Layer however you like your burgers. To get the sesame seeds to stick brush a little water on top of the cupcakes and sprinkle on the seeds.
For the Fries:
Mix cookies as directed on package for "cutout cookies". Roll out the dough and cut into long strips. Cook for about 8 mins at 350 degrees. If cookies come out the thick slice them in 1/2.
Toasted Veggie Sandwiches:
We could seriously eat these all day everyday.
Hard rolls, ciabatta rolls or cheese bread
Cheese, pepper jack or cheddar
Set oven on broil, slice bread or rolls, put sliced cheese on one or both sides and toast in oven.
Once cheese is melted, remove and add vegetables that you like.
Drizzle with italian dressing or other favorite dressing.
Last year I made some of this with tomatoes from our garden and I loved it. It is actually just a tomato sauce, but I love it as a pizza sauce.
16 medium to large tomatoes
2 tablespoons balsamic vinegar
coarsely ground black pepper
2. Cover baking sheet with parchment paper
3. Cut an x in the bottom of each tomato and place on parchment with x side up.
4. Roast tomatoes 20-30 minutes until skin begins to pull away at the x. (as seen in photo) Remove and let cool.
5. When cool enough to handle, core each tomato and peel skin away from meat of tomato using a sharp knife. Work over a large bowl to catch juices.
6. Coarsely chop tomatoes in a bowl using knife or scissors or squish them with your hands. Add basil, garlic vinegar, salt and pepper, mix well.
7. Label freezer bags, fill them with 2 cups of the sauce, place in freezer for up to 6 months. Makes about 12 cups.
Melt in sauce pan or place on counter to thaw.
Use a strainer to get rid of some of the liquid, depending on how runny or thick you like your pizza sauce.
1/3 cup chopped fresh basil
Coarsely ground black pepper
Shaved Parmesan cheese (optional)
1. Chop tomatoes and place in bowl. Add garlic, olive oil, basil, salt and pepper. Toss gently. Cover with plastic wrap.
2. Slice french loaf and toast in oven. Then spread bruchetta on top of each slice. Top with parmesan cheese.
I also used veggies from our garden to can some spaghetti sauce, hot banana peppers and some peach salsa.
3 1/2 pounds ripe tomatoes (10 medium, or 30 roma tomatoes)
2 fresh Anaheim or poblano chile peppers, seeded and chopped (whatever gives you 1 1/2 cups) I used 1 Aneheim pepper and almost a whole poblano pepper, but they were really big.
1/4 cup (or a little less) seeded and chopped fresh jalapeno chile peppers (about 1 1/2 large peppers)
Make sure to remove all the seeds from all of the peppers or else it will be piping hot. I used a baggie on my hand when cutting them because the spices can get on your fingers.
1/4 cup snipped fresh cilantro
1/4 of a 6 oz can of tomato paste
3 1/2 cloves garlic, minced
1/2 teaspoon black pepper
2 peaches, skin, core and chop
1. Seed core and coarsely chop tomatoes (you should have about 7 cups). Place tomatoes in a large colander. Let drain 30 minutes.
2. Place drained tomatoes in a large sauce pot. Bring to a boil, then reduce heat. Simmer, uncovered about 1 1/4 hours or until thickened, stirring frequently. Add chile peppers, onions, cilantro, vinegar, tomato paste, garlic salt, and pepper. Return mixture to boiling. Add peaches, reduce heat. Simmer, uncovered for 10 minutes. Remove from heat.
3. Ladle hot salsa into cleaned 1/2 pint canning jars, leaving a 1/2 inch space at the top. Wipe jar rims, put lids on. Process in a
boiling-water canner
for 15 minutes (start timing when water begins to boil. Remove jars and cool on racks.
I actually cut this recipe in half, so for the actual recipe just double everything. This particular recipe made 7, half pint jars, as seen in the picture.
And that's that. We have had fun eating so many fresh vegetables and herbs from our garden and can't wait to eat all of our canned and frozen vegetables and sauces over the winter.