top picks: iphone cases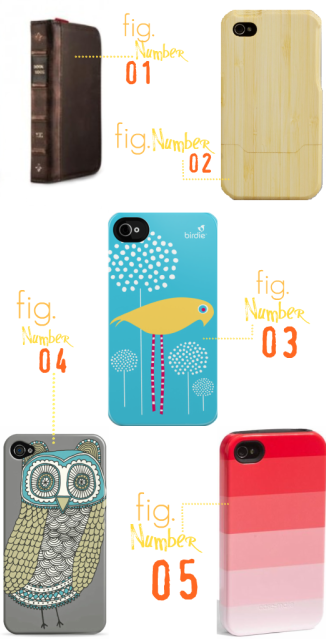 One of my favorite things when reading other people's blogs is finding products and things that other people liked. I have bought a handful of things after hearing good things about it on someone's blog. So I decided that I would like to every once in a while, share things that I have bought or done research on that I like. Because Danny and I just bought new iphone cases, I decided to share those first.
1.
The book book iphone case is a wallet and case in one. Danny has this one and loves it. He says it will help him not to loose his wallet as much... but I think it makes me more worried because now there's more at risk if he does loose it. The only drawback to this case is that it is a little cumbersome to talk on the phone because the wallet folds behind the phone when you do, just something you have to get used to.
2.
If you want to go green, these cases are made out of bamboo. You can get any design you want hand carved in to it. Not only is it green, some of the proceeds go to helping third world countries.
3.
These Uncommon iphone cases are pretty cool because you can customize it with your personal design or photo.
4.
When I was looking for a new iphone case I came across these indie design cases. Artists submit designs and then people can vote on them. The winning designs become available to buy. It's fun to look through the designs that are up for voting, some are hilarious.
5.
This is the iphone case I ended up selecting. It is a case mate stacker. You get these blocks of colors and can stack them on however you want. So if you get bored of the color arrangement you can change it up. I like how the case fits. It's very durable but isn't bulky.