headbands galore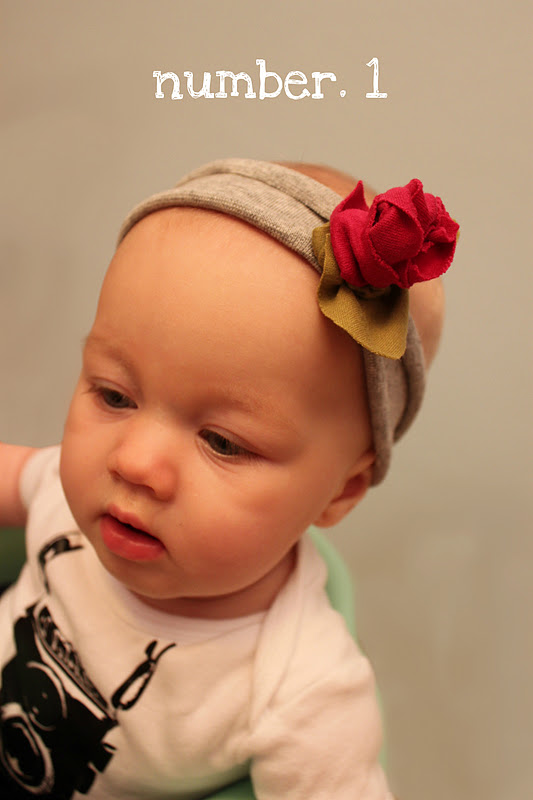 Lately, I have been a headband making fiend. I think it's because whenever I look at places to buy headbands, especially Etsy, I just think I could make one myself. Plus, it's fun for me. Here are a few, some of which I finished over the weekend.
For this one, I used some leftover jersey knit I used for a skirt I just made...(yes, I made ANOTHER one). I measured how much of a strip I needed and then took off an inch from the measurement because the knit fabric stretches. I then sewed the headband together so that it was a loop. Then I made sort of a rossette out of the knit and some little leaves and sewed the flower to the leaves. Then I hot glued the flower to the headband.
Again, with the leftover stretchy knit fabric, cut it in to strips and then I braided it. I sewed the ends together so that it made a headband loop.
For the little flower, cut some circles with felt, how big you cut them depends on how big you want the flower.
Put a little dot of hot glue in the middle of the circle and then pinch it together with your fingers.
Then glue all of the litte tiny buds to a round piece of felt. Hot glue on some felt leaves and then hot glue it to the headband.
This headband is made out of a piece of ribbon and some jersey knit fabric.
Cut your ribbon or knit piece the length of your babies head... but measure right where the headband will be, not where the doctor measures to get the head circumference.
In the picture I have both the ribbon and the knit headband strips. As I mentioned before, when using knit fabric, make it about an inch too small, because it will stretch. For the ribbon, I made it about an inch too long and then sewed about two inches of elastic on the inside of the ribbon. I don't have any pictures of this, but just pull the elastic to stretch it out while sewing it on the ribbon. Then when you let go, the elastic should shrink back up. That way the ribbon has some give to it. Then sew the ends of the ribbon together so that you have a headband loop.
Cut the knit fabric in to different shapes.
Sew through the cut out shapes until you get the flowers you like. Sew all of the flowers together and then hot glue it to the ribbon headband.
{Isn't her onesie in picture number 1 with the vintage camera on it pretty sweet? I'll tell you more about those customized onesies later}