thanksgiving crafting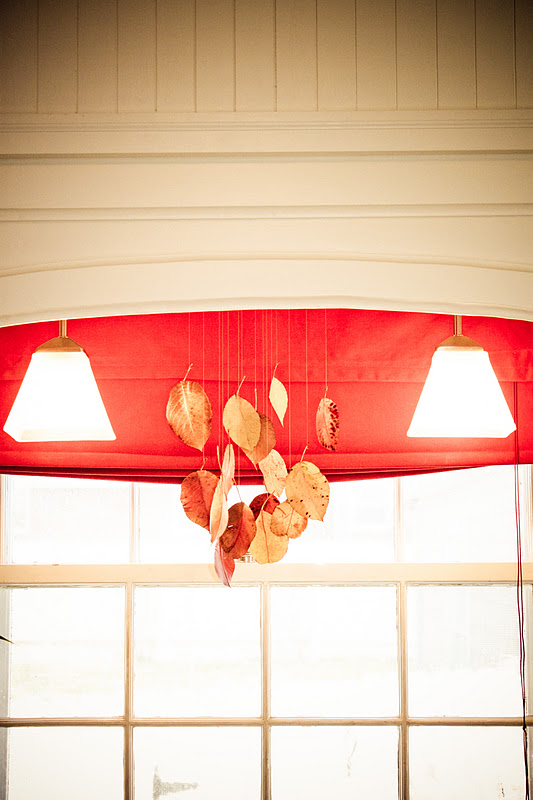 I love the fall for many reasons and one of them is the beautiful fall colors. The other day I enlisted the kids help and we collected some leaves in our yard for some crafting. While we were outside, my neighbor came over and was telling me how she sometimes puts leaves in between wax paper and irons them so they get a nice waxy sheen. Knowing I was going to use some of these leaves for decoration, I thought, hey that's a good idea. But let me tell you my friends... it's NOT a good idea. I tried it and the iron started smoking. I soon realized that I should have probably put a cloth or something in between the wax paper and iron... at least that's what logic (or my husband) would tell me, but I'm admitting this wasn't my brightest moment. The iron kept smoking more and more and it started sounding like little kindling burning inside the iron so I threw it in our wash basin, and turned the faucet on it. Don't worry it was unplugged at this point (my husband wondered if I was pouring water on a plugged in electronic... he gives me no credit!) The iron finally stopped smoking after I doused it. And I'm not too sad because I wanted a new iron anyway.
So I scrapped the wax paper idea and took one of my husbands text books and stuck the leaves in there so they would flatten and dry out. I would recommend using a book that you don't like because it kind of wrinkled the pages a little and made the book stink. Maybe your husbands text book isn't the best idea. Luckily, my husband was done with that book.
Once your leaves are nice and flat, here are a few things you can do with them:
Leaf mobile: I pulled out some wooded skewers leftover from summer grilling, and made a little mobile and tied thread to the end of the leaves and then hung it from the ceiling.
Leaves in picture frames:
I had some of these pictures frames just sitting around so I put some of the pressed leaves in there. You could also do this with a regular picture frame, just put a piece of white paper behind the leaves.
Table decor:
Of course I always have to have some leaves on my table centerpieces. These are great for holiday dinners too, to have them spread around the table. The pressed leaves work much better because they don't crinkle up.
This week I am beginning to get all of my holiday decorations out, so I will be posting some of the new ones I have been working on.