turban headbands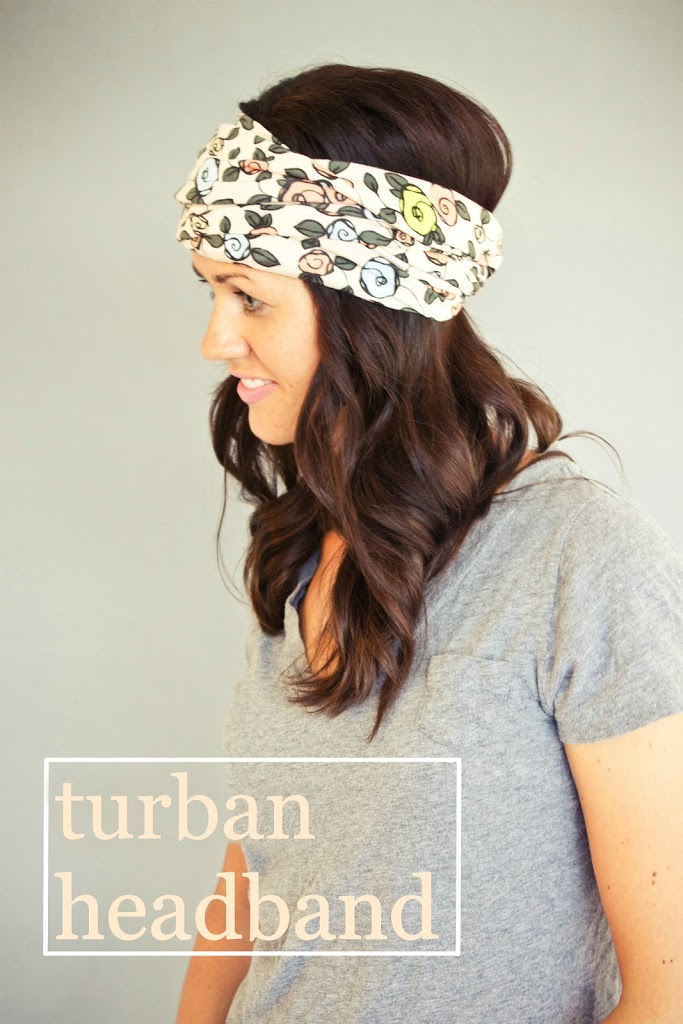 So, I have seen these turban headbands and think they are such a cute accessory. I figured I should pull out my sewing machine and make a couple. They were pretty quick. It reminded me a lot of how I would make an infinity scarf, just smaller and with lightweight knit fabric.
first.
Cut a rectangle piece of lightweight knit fabric (or a t-shirt, or other stretchy fabric). One side should be (your head circumference x 2). The other side should be about 7-9 inches- depending how thick you want your headband. Mine was 9 inches. So I ended up with a rectangular piece 44 inches x 9 inches.
second. Fold the fabric on to itself the long way with the right side of the fabric in. So, folded, it will be 44 inches x 4.5 inches. Sew along the long side with a normal straight stitch. Leave an inch of un sewn fabric on each end.
third. Turn the fabric right side out so that you have a long tube. Fold the tube on to itself and line up the ends. In the picture below you can see how the open ends are matched up. Pin it together and slowly sew it together, right side of the fabric to the right side, careful to make sure you are sewing just the one layer of fabric together. Then after you sew all around, you should have a sort of loop scarf. Also, that one inch left over from step two: just do a top stitch over that on the outside of the scarf.
To fold the turban headband:
Pull it tight and you can see the little twist in the front of the headband. You can do a few hand stitches in the back of your headband so that the twist stays in place and you don't have to twist it every time you want to wear it.
Then you can wear it with the twist in the front, like I did with the blue and white headband below or with the twist in the back, like I did with the floral headband.