vegetable panini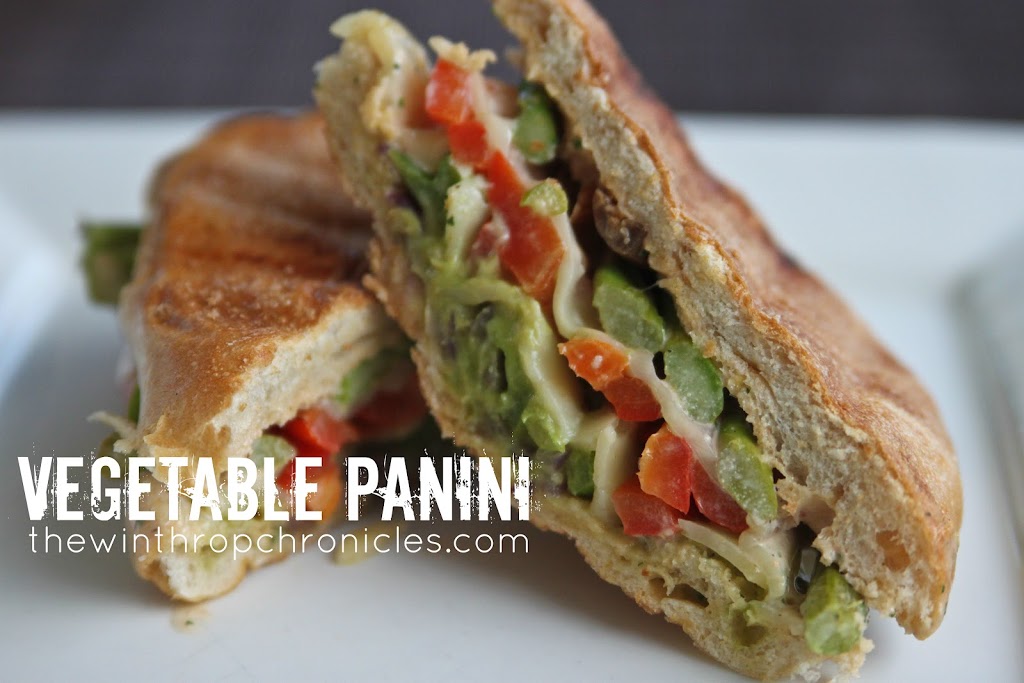 I got the recipe
here
, but have added it below with some of the changes I make to the recipe when I make them:
Roasted Veggie Panini with Creamy Chipotle-Lime Dressing
(Recipe by Our Best Bites) With my own adaptations
4 ciabatta rolls
Creamy Chipotle-Lime Dressing (recipe below)
8 1-ounce slices Provolone or pepperjack cheese (or half Provolone and half pepperjack)
1/2 cup

guacamole


1/2 sliced red pepper
1/2 sliced green pepper
1 small red onion, sliced
1/2 pound fresh asparagus, tough ends snapped off
Creamy Chipotle-Lime Dressing
1 cup mayonnaise
1/2 cup buttermilk
1 1-ounce package

Hidden Valley Ranch

dressing mix
3-4 cloves garlic
Juice of 1 lime
1/4 cup adobo sauce (from a can of chipotle chilies)
1/2 cup roughly chopped cilantro (about 1 handful)
To prepare the dressing, place all the ingredients in a blender and blend until combined. Refrigerate for at least 30 minutes before serving.
Preheat oven to 450. Line a baking sheet with aluminum foil. Place washed and snapped asparagus, sliced peppers, and sliced onion on the baking sheet. Drizzle with 2-3 tablespoons olive oil and sprinkle with kosher salt and freshly ground black pepper. Toss to evenly distribute the the oil and salt and pepper Roast for 15 minutes or until veggies are tender.
While the veggies are roasting, spread both sides of each piece of bread with the Creamy Lime-Chipotle Dressing. Place a slice of cheese on the bottom.
Spread the top with guacamole and then place another slice of cheese on top of the guacamole.
When the veggies are done roasting, divide them among the sandwiches (on the bottom half). Top each sandwich and cook in a panini press (or on a skillet with a heated pan pressed on top of the sandwich). Allow to stand 2-3 minutes before cutting in half and serving. Makes 4 large sandwiches.