DIY BABY MITTENS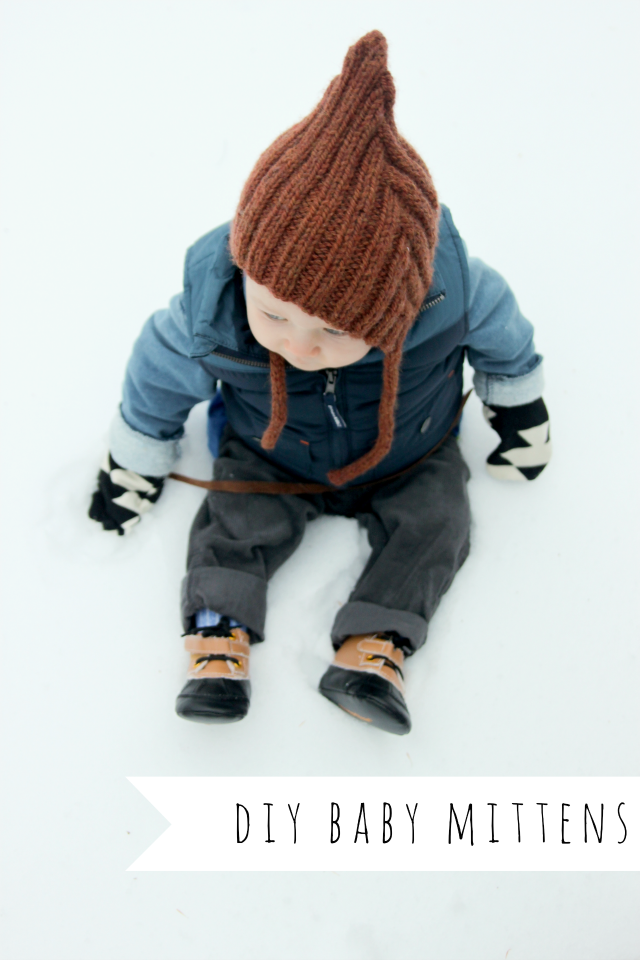 My kids are always loosing their little mittens in the winter. My sister made these adorable baby mittens and showed me how. It was so simple to make them and then you have cute, useful mittens that are attached to each other so they won't get lost as easily. My little nephew looks so cute with them!
To Make:
1. Draw a shape for the mitten. You don't need to draw a thumb for the mitten, but you should make sure the mittens will be long enough so they stay on the little one's hands.
2. Trace and cut out 4 double layers of the mitten (8 pieces of fabric). Leave about a 1/4 inch for seam allowance.
3. Take two pieces of the fabric at a time and place them on top of each other right side of the fabric OUT. You will have 4 little un-sewn mittens. Then place two of those on top of eachother so you will have two mittens and they will be layered like the picture on the right below.
4. Take the inside two layers and fold them out and over the first and last layer, like in the picture below. Sew down the folds all along the sides of the mitten.
6. Turn the mittens right side out and sew a single stitch to create the hem at the top of the mittens. While doing this, place a piece of string or leather along that hem line and sew that in also.
That's it! You can make the string even longer so it goes through the sleeves of their jacket. You could also play with different types of fabric, like a thick fleece or felt to line the inside.