COOKIES FOR SANTA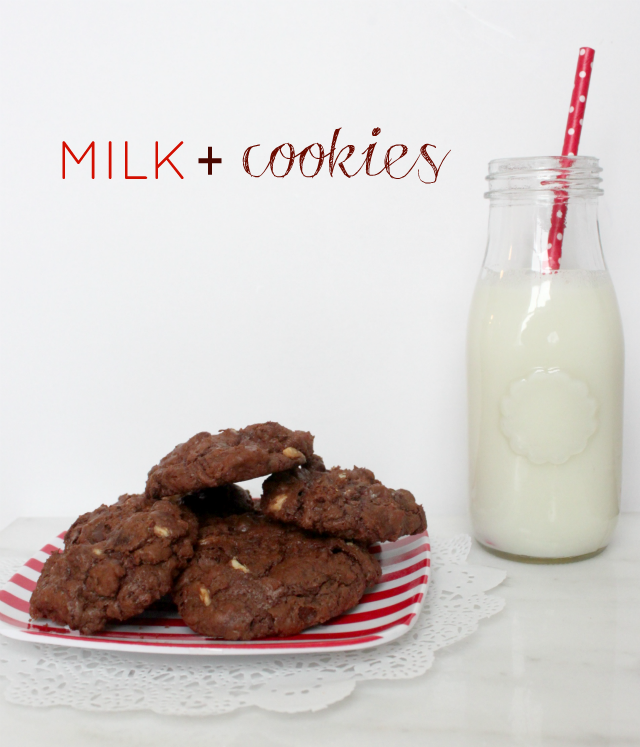 Ok, so you probably know my obsession with the dollar aisle at Target... well, they have some great things for the holidays. The last time I was there I bought a bunch of stuff and thought it was perfect for some holiday cookies. I bought the little milk bottles, paper straws and plastic plates there. And this is one of my favorite cookie recipes.
Ghirardelli Ultimate Double Chocolate Cookies
yield-2 dozen cookies

1 bag (11.5 oz.) Ghirardelli 60% Cacao Bittersweet Chocolate Chips
6Tbsp. (3/4 stick) unsalted butter
3 eggs
1 cup sugar
1/3 cup flour
1/2 tsp. baking powder
1 bag (12 oz) Ghirardelli milk chocolate chips
1 cup (4 oz.) chopped walnuts or white chocolate chips (which is what I did)

In a double boiler over hot water, melt the bittersweet chocolate chips and butter. In large bowl with electric mixer, beat eggs and sugar until thick; stir in chocolate mixture. In small bowl, stir together flour and baking powder; stir into chocolate mixture. Gently mix in milk chocolate chips and walnuts if using.

Using a sheet of plastic wrap, form dough into two logs, each 2 inches in diameter and about 8 inches long. As the dough will be very soft, use plastic wrap to hold dough in log shape. Wrap tightly. Refrigerate at least 1 hour or until firm.

Preheat oven to 375. Unwrap dough; with sharp knife, cut into 3/4 inch slices. Place slices 1 1/2 inches apart on a cookies sheet lined with parchment paper. Bake 12 to 14 minutes or until shiny crust forms on top but interior is soft.

Cool on baking sheet.