INDUSTRIAL WALL ART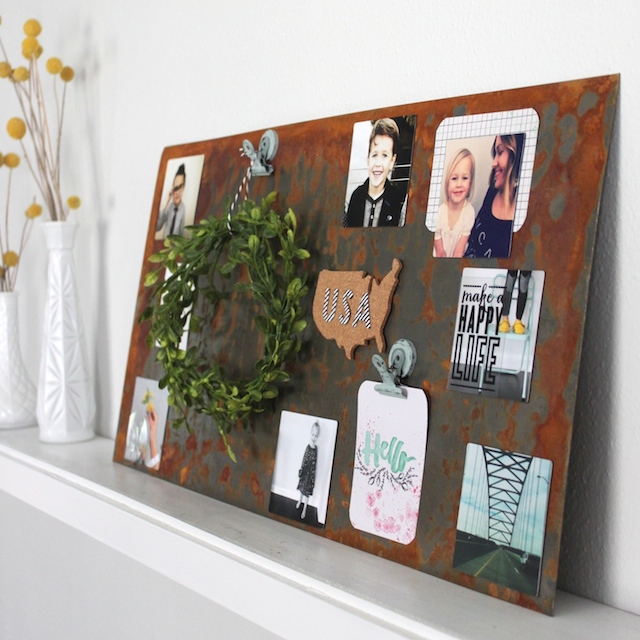 I just love the look of industrial design. It's taking something that seems like it belongs in the dumpster and repurposing it to fit in some of your most comfortable places in your home. Today I want to share this little piece of wall art with you. I got some of these adorable personalized magnets from Tiny Prints and wanted to be able to display them somewhere other than my kitchen refrigerator, so I figured I would have to bring the metal in to my living room. Recently, I discovered a great way to age metal so I decided to use that technique and I came up with a completely personalized and changeable piece of wall art. Because the items are magnetic, I can interchange them as often as I want. Which is great because I think this would be a great holiday card holder in December.
---
To make
Supplies needed:
Piece of sheet metal (I got mine at Home Depot for about $10)
White vinegar
Tray large enough to fit the piece of sheet metal
Scrap wood or picture frame hook
All purpose glue
Magnets or other things to decorate your art with
1. Soak your sheet metal in a vinegar bath. Below you can see I used a shoe mat that was the perfect size. Let the metal sit in there for several hours or overnight. The rust/oxidation doesn't show up until after it is removed from the water. So even if it doesn't look like it has changed in a few hours, take it out and let it dry and watch the magic happen. The longer you leave it in the vinegar, the more rusted it will get. Mine was left in about 24 hours.
2. After it has dried, use some really strong glue (I used gorilla all purpose glue) and glue some scrap wood or a picture frame hook on the back. This is so that you can hang it on the wall if you choose. I glued on two pieces of scrap wood that will support being placed on nails if I decide to hang it.
3. Decorate the metal with whatever you'd like.
I decorated it with Tiny Prints magnets, and some little cards and items I found at craft stores. My kids loved seeing these pictures of them and thought it was so cool that they were on a magnet. I just love creating personal decor that can change right along with my growing family.